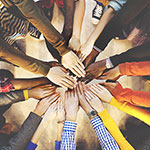 Maximising employee engagement
WEBINAR
Wednesday 25 October 2017  |  1pm - 1:30pm
Complimentary
About the event
When you're in the bottom third of the 9th inning with the winning runner on 3rd base, how do you ensure your staff will step up to the plate and deliver?
Join Fiona Crawford, Olympic softball medallist and General Manager Human resources at InfoTrack as she shares how engaging with three key areas (heads, hearts and hands) helps you to maximise employee engagement, so that you can achieve a healthy, high-performance culture.
Presented by Fiona Crawford
With over 15 years human resources, training and coaching experience across a range of industries including sport, fitness, finance, hospitality and automotive; to say Fiona Crawford is passionate about HR is an understatement. Fiona has a BA Sports Studies (majoring in Psychology, Marketing and Science), and was awarded the AHA NSW HR Manager of the Year. Her uncompromising commitment to high performance and continual improvement stems from her sporting background - a two-time medal winning Olympian in the sport of softball (Silver 2004 and Bronze 2000).
Who will you be learning from?
Fiona Crawford, General Manager Human Resources, InfoTrack
Is the event online? 
Yes, this event is an online webinar. Tune in from your office desk, at home or on-the-go.
Who is this event for?
All industries
Professional learning
If you are in the legal industry you can claim 1 CPD unit for this seminar under practice management and business skills.
How to engage your employees intellectually
How to create an emotional connection for your employees to your business
How to give your staff the tools they need to deliver what they need