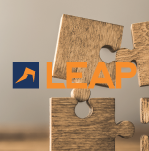 Increasing Efficiency through Integration - LEAP
WEBINAR
Wednesday 20 February 2019 |  1pm - 2pm AEDT  |  1 CPD
Complimentary
About the event
Achieving more with less is the hallmark of a successful firm and integration is the cornerstone of the future of legal practice management systems. Join InfoTrack and LEAP as we run through the newest integration features in the electronic conveyancing process including: 
• Matter creation with with data auto-filled from an eCOS 
• Eliminated data entry when ordering property searches, using auto-populated data from your LEAP matter 
• Property searches automatically saved back to your matter 
• Cost recoveries captured in real time back to the client ledger 
• Search fee reconciliation for ease of client billing and no lost disbursements 
 Presented by Selma Raso & Ghazal Karimi
Selma Raso is one of LEAP's Client Account Managers, with over 6 years' experience working alongside LEAP clients. As a Client Account Manager, Selma ensures her clients are equipped to use the breadth of LEAP's time-saving features and therefore receiving the best return from their LEAP investment. She has had the opportunity to meet many law firms and understands the importance of having reliable software with great customer service. 
Ghazal Karimi is Client Relationship Manager at InfoTrack. Prior to starting at InfoTrack, Ghazal was a practicing solicitor in Immigration and Criminal Law and is currently still practicing as a solicitor and Immigration Agent.
Who will you be learning from?
Selma Raso, Client Account Manager, LEAP
Ghazal Karimi, Client Relationship Manager, InfoTrack
Is this event online?
Yes, this event is an online webinar. Tune in from your office desk, at home or on-the-go.
Who is this event for?
Legal and conveyancing professionals
Professional learning
If you are in the legal industry you can claim 1 CPD unit for this seminar under practice management and business skills.
* Practitioners residing in WA will have to submit an application for CPD approval to the Legal Practice Board of Western Australia at a fee of $60*