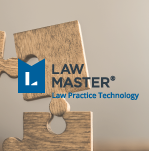 Increasing Efficiency through Integration - LawMaster
WEBINAR
Wednesday 30 January 2019 |  1pm - 2pm AEDT  |  1 CPD
Complimentary
About the event
Achieving more with less is the hallmark of a successful firm and integration is the cornerstone of the future of legal practice management systems. 
Join LawMaster and InfoTrack as we showcase the seamless integration capabilities that enhance your online searches, minimise double entry and automatically save disbursements to your matter. LawMaster's release of electronic signing is the latest integration offering with InfoTrack's SignIT. This feature makes LawMaster documents available for eSigning; dramatically streamlining your firm's traditional signing cycle. Join us for a complete end to end process using our Standard Content and experience the benefits of a truly integrated solution.
 Presented by Anthony Romeo
Anthony Romeo is an experienced Account Manager, having worked across various facets of the conveyancing and legal services industry. This has included working in a firm running conveyancing files, managing a settlements team and managing Major Accounts for a market leading information broker prior to joining the Account Management team at LawMaster last April.
Who will you be learning from?
Anthony Romeo, Account & Business Development Manager, LawMaster
Robert Gomez, Client Relationship Manager, InfoTrack
Is this event online?
Yes, this event is an online webinar. Tune in from your office desk, at home or on-the-go.
Who is this event for?
Legal and conveyancing professionals
Professional learning
If you are in the legal industry you can claim 1 CPD unit for this seminar under practice management and business skills.
* Practitioners residing in WA will have to submit an application for CPD approval to the Legal Practice Board of Western Australia at a fee of $60*
Streamline the signing cycle with integrated eSigning
Search and eSigning costs are automatically recorded as matter disbursements
Seamless integration reduces manual processes and improves productivity