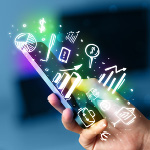 Increase your SMB online reputation and presence
WEBINAR
Thursday 14 December 2017  |  1pm - 2pm
Complimentary
About the event
Having an online presence is vital. For SME's in particular, it can make or break how you are able to attract new customers or reach out to existing ones. 
In this webinar, Ryan Terrey, InfoTrack Digital Manager, will run you through the importance of developing and maintaining an online presence and how this can make you more visible to your target audience. 
 Presented by Ryan Terrey
Ryan Terrey is charged with supporting and executing the digital strategy development for InfoTrack Australia. Responsible for building, driving and leading the growth and development of the InfoTrack digital brand through the strategic use of SEO, SEM and Social Media techniques. Data analysis and conversion rate optimization also forms a crucial part of his role.
Who will you be learning from?
Ryan Terrey, Digital Manager, InfoTrack 
Is this event online?
Yes, this event is an online webinar. Tune in from your office desk, at home or on-the-go.
Who is this event for?
All industries
SMB professionals interested in increasing online reputation and presence
Professional Learning
If you are in the legal industry you can claim 1 CPD unit for this seminar under practice management and business skills.
* Practitioners residing in WA will have to submit an application for CPD approval to the Legal Practice Board of Western Australia at a fee of $60*
Why having an online presence is important.
How to find out who is looking for your company/services.
Top tips for quickly optimising your website.