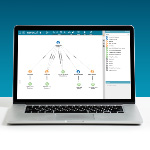 Data visualisation with REVEAL
WEBINAR
Thursday 21 February AEDT  |  1pm - 1:30pm  |  1 CPD
Complimentary
About the event
Imagine having an interactive workspace that aggregates search results from multiple sources and instantly maps out relationships between people, companies and assets in one simple visualisation.
During this webinar, Nathan Cox will demonstrate how to innovatively delve into complex layers of data with the ability to view shareholder percentages, track changes to corporate structure, filter your results and export data in various formats. 

 Presented by Nathan Cox
As Client Relationship Manager Nathan responsible for ensuring uptake of InfoTrack products and client satisfaction. He is passionate about training and enjoys showing clients how InfoTrack will increase efficiency and improve workflow within their firms.
Nathan started out in InfoTrack in 2012 and was quickly recognised for his excellence. He took on numerous roles and quickly became an Account Manager for Australia's leading searching technology company. Nathan has years of training experience including the implementation and training of legal services within some of Australia's leading law firms and conveyancers.
Nathan thrives on the challenges associated with providing a high level of customer service and he is committed to providing any support firms need to ensure they are getting the most from working with InfoTrack.
Who will you be learning from?
Nathan Cox, Client Relationship Manager, InfoTrack
Is this event online?
Yes, this event is an online webinar. Tune in from your office desk, at home or on-the-go.
Who is this event for?
Professionals across commercial law, accountant/insolvency and banking industries
Professional learning
If you are in the legal industry you can claim 1/2 CPD unit for this seminar under practice management and business skills.
* Practitioners residing in WA will have to submit an application for CPD approval to the Legal Practice Board of Western Australia at a fee of $60*