2017 award winners
The InfoTrack Client Centricity Awards 2017 recognise excellence in client services and customer experience in the legal and accounting industries. We believe client centricity is vital to the success of any business and live by the motto that a business is not great until their clients say they are.
InfoTrack would like to thank all the nominees for the Client Centricity awards and congratulate the 2017 winners.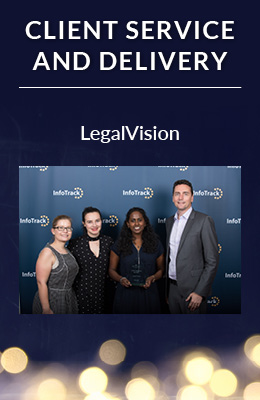 LegalVision
The online law firm, has taken the award for Client Service and Delivery for the second year running! After learning in a CXINLAW Australia report that client sentiment towards legal service providers was unfriendly and unresponsive, LegalVision made it their responsibility to transform how clients interact with their legal services provider.
By scoping out their client's legal needs, providing a fixed-fee quote and keeping clients well-informed throughout the process, LegalVision have made their unwavering commitment to their client experience clear. And it doesn't stop there! In order to continue to strive towards being #1, LegalVision collect and action feedback from every single client.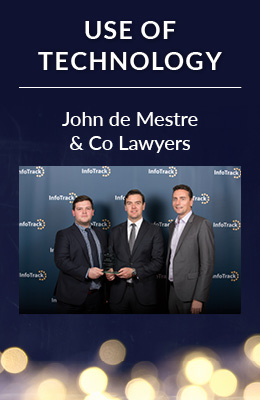 John de Mestre & Co Lawyers
By using electronic contract software, John de Mestre & Co Lawyers are now selling properties faster than ever before. Sending an emailed 'read only' link to real estate agents allowed John de Mestre clients to review the real-time status of the signing of a contract and receive notification when the exchange had taken place. This contemporary approach to electronic conveyancing has enhanced John de Mestre's client's involvement with their sales and ensured collaboration between all parties involved.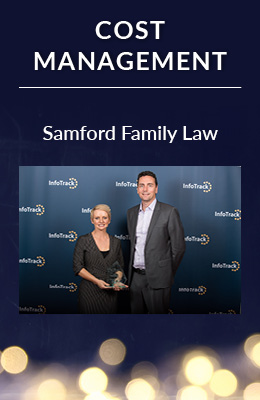 Samford Family Law
The family law firm, has won the Cost Management category for its transparency in legal costs. By offering all work at a fixed fee that is paid upfront, Samford Family Law are able to focus on doing their substantive work while clients can appreciate that they are getting the help they need without having to worry about hidden costs.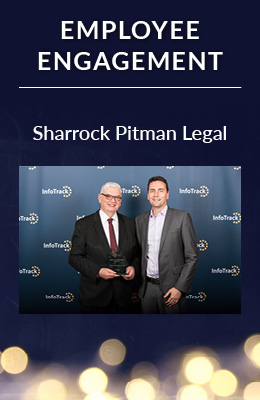 Sharrock Pitman Legal
The high-performing, vibrant workplace culture Sharrock Pitman Legal is enhanced by four key charters; client care, team care, leadership care and community care. In addition, the company offers a range of excellent initiatives including biennial retreats, celebratory lunches, recognition rewards and engaging and challenging work. The flat-tier structure of Sharrock Pitman Legal means that all ideas are sought after and reward is given for great ideas.
Congratulations to our 2017 finalists.