John Ahern, InfoTrack's CEO has just released the latest April property market data and this is what was uncovered.
First home buyers are 40% more active today compared to April 2020
With the recent surge in property market purchase prices in NSW, the latest conveyancing data insights released by InfoTrack saw March 2021 first home buyer activity purchasing activity spike by 25% in comparison to February. This spike is equal to activity in November and December of 2020.
Despite the reported downward trend in April showing a decline of 10% compared with March activity, what is promising, is that first home buyer activity is still 40% more active than in April 2020.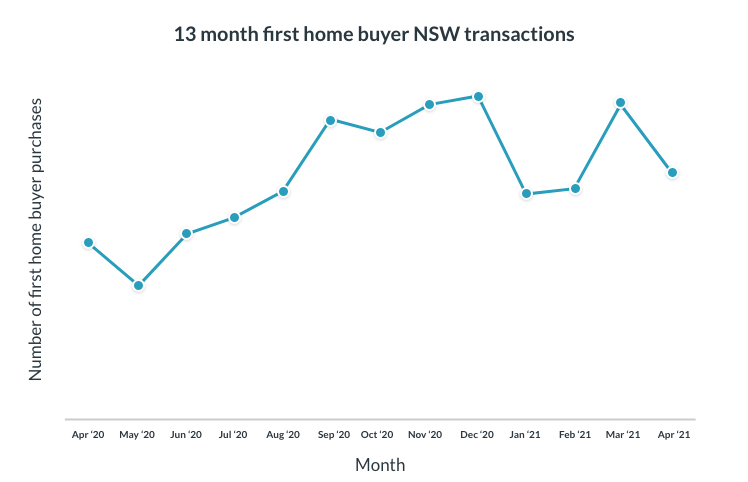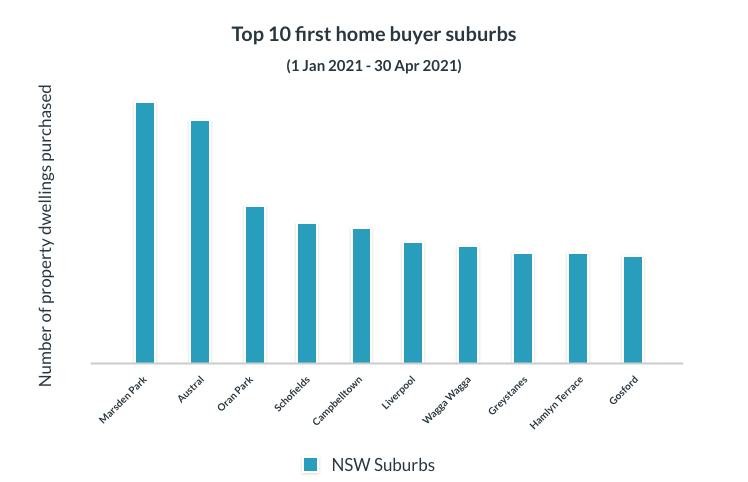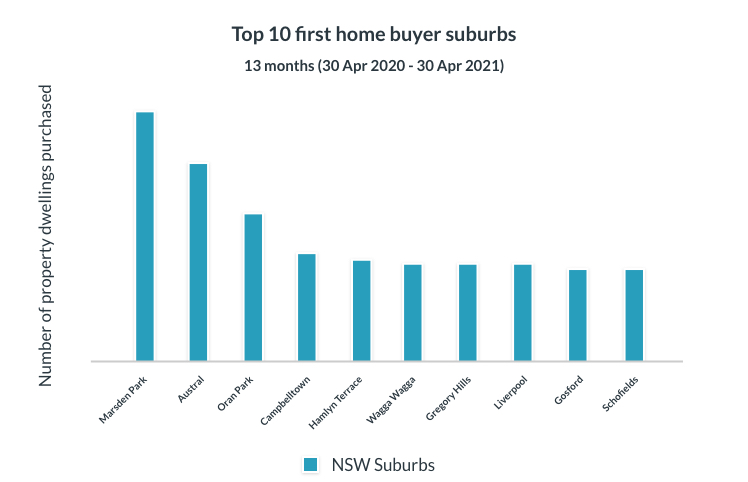 Top hotspot suburbs for First Home Buyers
The hottest suburb right now for First Home Buyers in NSW is Marsden Park. Holding the number 1 position for the last 12 months with a median house price of $829,000 and situated in North-West of Sydney, 49kms from Sydney's CBD offering mountain views and plenty of recreational park land for active families.
The second hottest suburb is Austral. Situated in the opposite direction, 42kms south-west of Sydney's CBD offering a median house price of $715,000. Also holding 2nd spot for the last 12 months, Austral is going through a rise in residential development and it is anticipated that young families and professionals chasing larger and more affordable homes will flock to this suburb.
The biggest moving suburb is Schofields, moving up from 9th position in the hot list to 4th position. This highly sought-after suburb on the fringe of Sydney's urban sprawl, has a median house price of $855,000 and is within Greater Western Sydney's - north west growth region. Not too far from neighboring suburb Marsden Park.
Dubbo lost its place in the hottest 10 suburbs this past four months, with Wagga Wagga moving down one place. Earlier speculation that buyers would start to move out of the suburbs and buy in regional areas could now be in question as workers start to return to offices in Sydney's Central Business District.
Neighbouring Marsden Park – which suburbs to watch out for next?
2762
Schofields, NSW
Tallawong, NSW
2770
Bidwill, NSW
Blackett, NSW
Dharruk, NSW
Emerton, NSW
Hebersham, NSW
Lethbridge Park, NSW
Minchunbury, NSW
Mount Druitt, NSW
Mount Druitt Village, NSW
Shalvey, NSW
Tregear, NSW
Whalan, NSW
Willmot, NSW
2761
Colebee, NSW
Dean Park, NSW
Glendenning, NSW
Hassall Grove, NSW
Oakhurst, NSW
Plumpton, NSW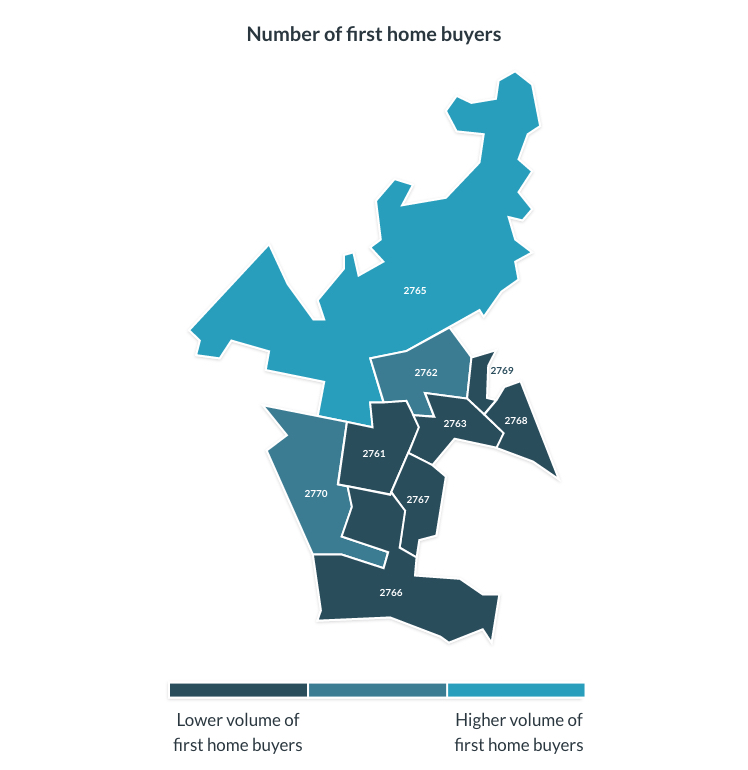 Industry opinions on first home buyer activity

Tom Panos
Real Estate Influencer
Many first home buyers were happy renting but have now changed direction and want to buy because even with rent drops, interest rates are so low that it's cheaper to buy than to rent. First home buyers are definitely buying in North-West and South-West of Sydney. 
What I'm seeing in relation to first home buyer activity in today's property market is that it's at an all-time high, and I assume FOMO is the biggest driver.
There is also a growing trend for first home buyers to purchase houses over units.

 Emanuel Oros
Property & Leasing Commercial Lawyer


Partner - Sparke Helmore Lawyers
Over the past 6 months in particular there has seen a significant resurgence in the property market and, whilst the market is starting to plateau slightly, there remains a great deal of talk around stamp duty reforms which themselves could spur a further spike in transactions through the short-term savings they could provide buyers.
Since the start of the COVID-19 shutdowns occurring. …there was talk of significant decreases in market values across the sector, as much as 20-30%, but as we have seen quite the opposite has occurred.
The personal motivation to get into a bigger, better designed home with the now hot to trot home office environment included has been a driver for many young families also gearing off the push for more flexible working arrangements with their bosses.
Sources: The data in this report reflects conveyancing activity of property lawyers and conveyancers in NSW within InfoTrack's platform. Median house prices realestate.com.au