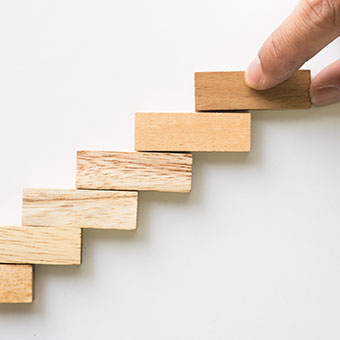 3 things I've learned on my journey from developer to CTO
28 June 2017
by Daniel Ryding
Recently, a long-term goal of mine became a reality when I was named Chief Technology Officer of InfoTrack. I've been doing a lot of reflecting on the journey that brought me to this point. As a former engineer turned developer, I joined InfoTrack when it was still a small start-up and I was looking for a way to get into full-time development. I never could have imagined just how much I'd learn and how far I'd come, but that's what happens when you work for a company where you feel like anything is possible. I'd like to share a few life lessons I've learned along the way that have helped me realise my goals.
Culture is everything 
I know from experience what it's like to feel like just a number on a page – a tiny cog in a giant machine – and how de-motivating that can be. I can't overstate the importance of finding a culture that inspires you and makes you happy to go to work every day. Culture is what made me want to work at InfoTrack at the start and it's what drives me to this day. I've found a place where every day I have an opportunity to make a positive change, not only to the business and the products we build, but to the people I work with. Innovation is encouraged and each day is full of opportunity; I've never felt that level of freedom anywhere else I've worked.
When I started at InfoTrack four years ago, the development team had around 7 people in It and we now have over 50 and continue to grow. Despite this massive expansion, we've managed to keep that small start-up feel because we care about what we do and the people we work with. The dev team at InfoTrack isn't hidden away in a corner, we're the fastest growing department in the business – other teams attend our huddles, we work with clients directly and we're highly integrated with the rest of the company. There is a passionate energy among the team and the business that is inescapable because we're all in it together, always pushing the limits to reach our next goal.
Starting from the bottom can be a good thing 
In 2013, I decided I wanted to take a leap and move from engineering into full-time development. I didn't have a lot of programming experience on paper, so I knew I'd have to start in an entry level position and prove myself. When I started at InfoTrack, I was a Technical Account Manager, and there was a bit of a running joke that all I did was make CSV files all day. But I was okay with that; I knew I had a lot to learn and I was ready to put in the hard work to reach my goals. I dedicated my time to developing my skills, learning about the business and soaking up anything I could from those around me.
In under a year, I became a full-time developer and continued to build my knowledge and skills. I was soon promoted to a Development Manager, which was a huge transition as I had to work on my people and management skills. Again, I took up the challenge and continued to learn, until earlier this year, I was promoted to Head of Development and shortly thereafter Chief Technology Officer. It has been a huge learning curve and a bit of a roller coaster ride, but I wouldn't have it any other way. I've worked at all levels in the company and learned things along the way that I never would have otherwise. All of this is to say, that if you find the right company, have the drive and dedicate yourself to a goal, you can make progress quickly, no matter what level you start at.
You learn the most from listening 
I think most great leaders spend more time listening than they do talking. The fact is, if you're speaking, you're not learning. Listening may come more naturally to some than others, but it's something anyone can do with some conscious effort.  Take the time to listen to everyone – even if you think someone might not have a good idea, you'll never know unless you hear them out and you'll often be surprised at how much you can learn. Stay curious, ask questions and really listen to the answers.
When I started at InfoTrack, I was a bit of a fiery person and prone to getting into robust conversations to prove my point. But thanks to a great manager, I soon realised I could learn so much more from hearing out others and trying to understand where they were coming from. I've learned so much from listening – to my managers, to my peers, to my employees. It has not only helped build my technical and business knowledge, but had a massive influence on me in terms of emotional intelligence and understanding how to better empathise with others.
Overall, it has been quite a journey and one that I never would have completed without working with such dedicated and passionate people, continually learning and upskilling, and simply listening to those around me. I'm proud to be part of a company that truly focuses on people and innovation, and I'm excited to help lead InfoTrack into the future as we continue to grow and expand into new markets.