InfoTrack Mission
InfoTrack is a technology company that provides integrated searching and innovative services for professionals, businesses and individuals with property, company and personal search needs.
About Us
InfoTrack is an award-winning technology company that is helping a range of professionals, businesses and individuals in a digital age. We provide an integrated platform that enables you to find, analyse, organise and communicate information efficiently and effectively. Our customers and clients tell us that the InfoTrack product suite is comprehensive, user friendly and that it continues to revolutionise their workflow, improve productivity, increase profitability whilst stimulating growth. We simply build smart technology that makes your life easier.
InfoTrack services over 8,000 clients across the legal, conveyancing, banking, finance, accountancy, insolvency, mercantile, surveying, government and consumer sectors.
The Company operates in 7 locations around Australia and New Zealand and globally in the USA and UK.
InfoTrack offers 4,500+ property, company and personal information products from a range of different government entities, corporates and other information providers.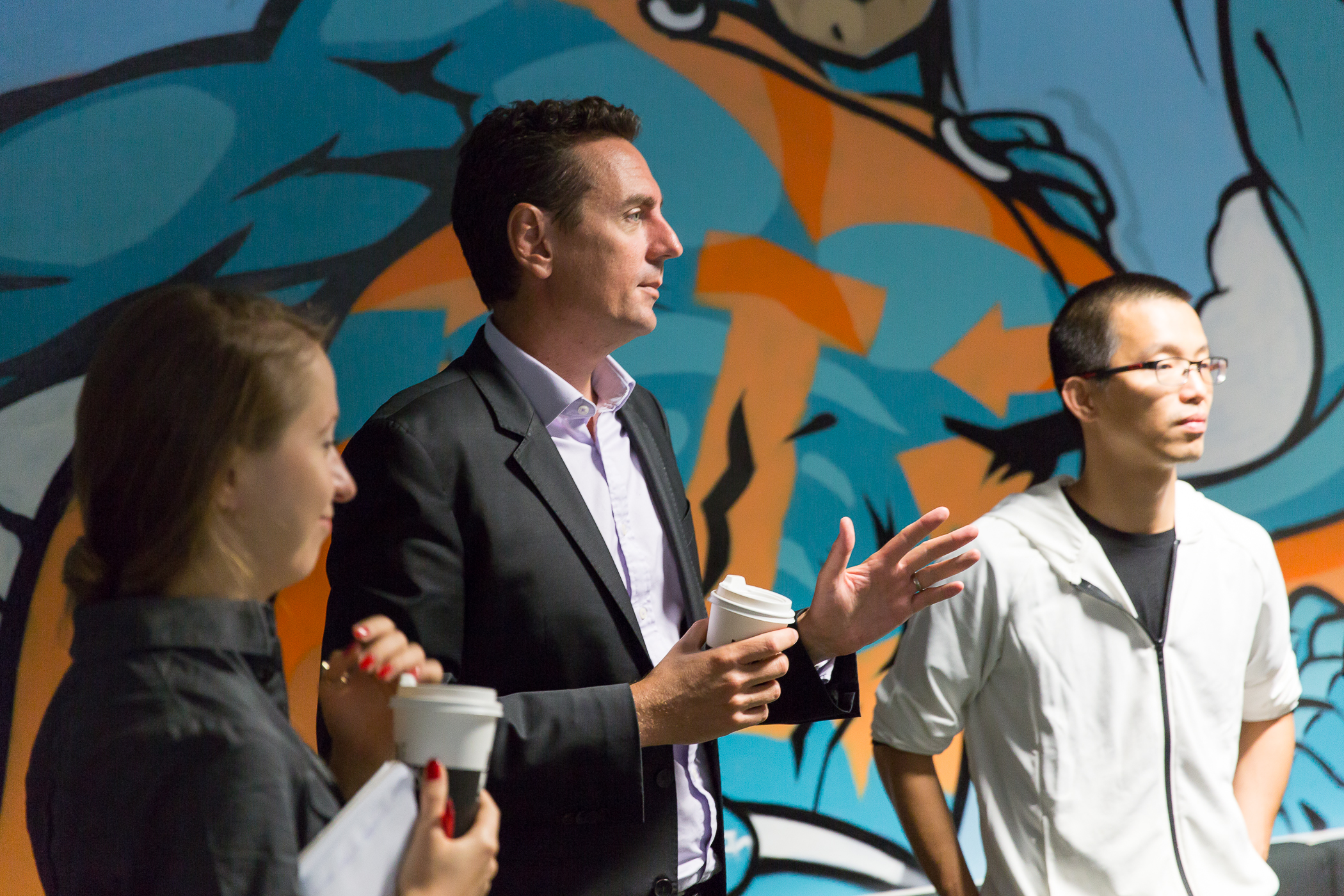 Our History
---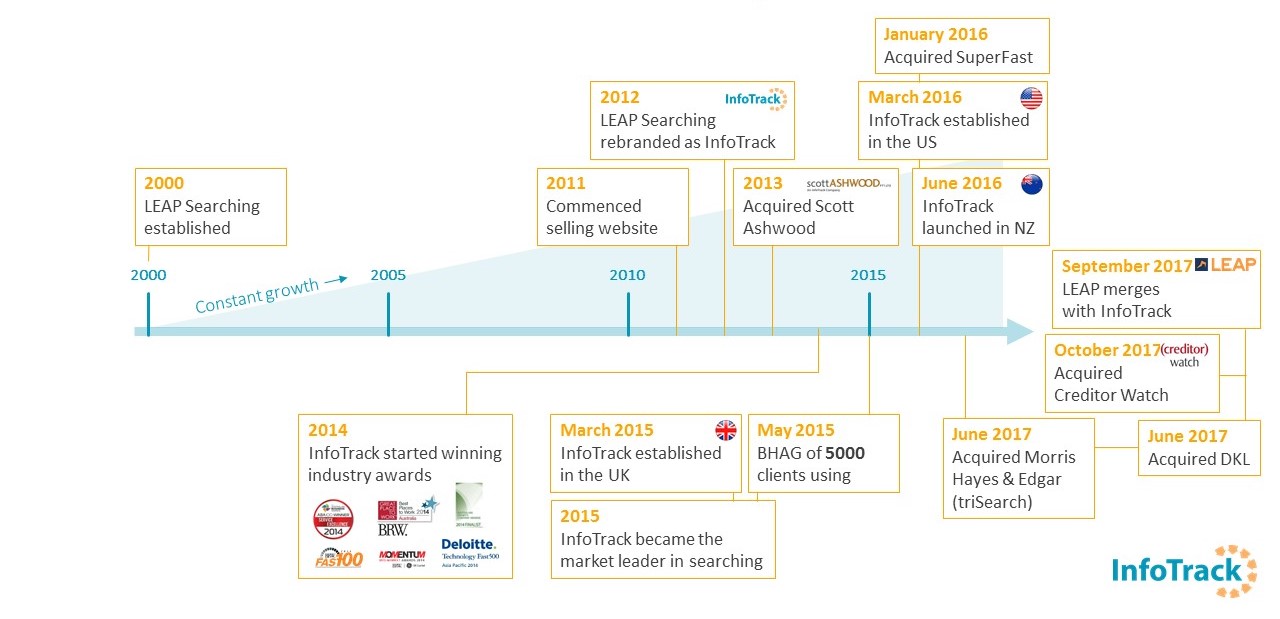 InfoTrack Group of Companies
---
Leap Legal Software
LEAP searching was first established in 2000. LEAP Legal Software is a legal practice management platform designed for small law firms which exclusively integrates with InfoTrack's SaaS platform.
The LEAP Practice Management Platform is an integrated legal practice management software and legal accounting solution in a single application. With exceptional data security, a huge library of guides, precedents and automated documents, LEAP's productivity boosting features help law firms to work more efficiently.
Creditor Watch
CreditorWatch is a commercial credit reporting bureau with over 50,000 customers, from sole traders to ASX listed companies. The Company provides credit risk information on every business entity in Australia including sole traders, trusts and partnerships.
Data is aggregated from multiple sources including Australian Securities and Investments Commission (ASIC), the Australian Business Register (ABR), Australian Courts, mercantile agents (debt collectors) and information captured from their extensive database of users.
eCompanies
eCompanies offers a fully automated company registration service that is available 24x7 and has a direct link to ASIC. They have registered over 96,000 companies and offer a  streamlined, fast and efficient way to complete, execute and lodge documents.
eCompanies provides additional services including ABN registration, domain registration, printed company documents, company name reservation, business name registration and discretionary trusts. 
Perfect Portal 
Perfect Portal is a purpose-built conveyancing sales management system that enables conveyancers to generate more quotes and improve profitability, whilst increasing efficiency via streamlined communication processes. 
Perfect Portal empowers conveyancers to take advantage of every opportunity and manage their relationships effectively through a convenient, fully integrated and easy to use online platform. 
With a successful and accomplished career spanning in excess of 28 years across the Australian ICT industry, Stephen Wood's professional experience has been focused on the building and rebuilding of various ICT businesses.
---
Stephen Wood possesses a relentless and yet infectious drive and determination to not only meet his aggressive targets but to overachieve every single time, without fail. His  most recent reign with InfoTrack has seen an incredible growth story since taking on the business in January 2010 as the CEO.
In September 2014 Stephen was awarded the title of Best Mid-Market Leader at the BRW GE Capital Momentum Awards in recognition of his demonstrated leadership in the sector. This includes businesses with annual revenue of between $10 million to $250 million.
Stephen was promoted to the Chairman of the InfoTrack Group of Companies in 2015 where he manages a growing portfolio of successful businesses. He works tirelessly to uphold aggressive growth strategies for global domination in the search and services industry, enhance his commitment to delivering operational excellence and support his never-failing dedication to customer focus.
Stephen's responsibility for leading and governing the InfoTrack Group of Companies includes:
InfoTrack Australia

InfoTrack NZ

InfoTrack UK

InfoTrack US

STL Group

LEAP
CreditorWatch
All who work closely with Stephen comment on what a pleasure he is to know. A giant of a man when it comes to his presence and commercial acumen.
John has over 20 years experience in the Information Sector, having worked in a number of engineering, sales and executive positions. With a strong technical background, he has vast experience in designing and developing products and has delivered platforms from inception to production.
---
John joined InfoTrack in 2015 as the Chief Technology Officer taking charge for establishing the company's technical vision and leading on all aspects of InfoTrack's technology development. John was appointed to the role of Chief Executive Officer in May of 2015 where he is now responsible for maintaining the extensive growth of InfoTrack in the Australian market.
John loves a challenge and is always pushing the boundaries to lead businesses on to exponential success. As a strategic thinker with a passion for creating disruptive market opportunities, John has continually exceeded expectations throughout his career and left his mark with a number of major accomplishments within the industry.
Along with his technical expertise, John has considerable sales experience. He believes in 'Solution Selling' and has the intuitive ability to identify opportunities and develop unique solutions. He has successfully positioned and sold Australian made products into international markets and has a history of building up profitable companies that sustain growth.
As a leader, John is dedicated to enabling and empowering those around him and is passionate about building success within his teams. He leads by example and believes that if he inspires his workers, they'll inspire not only him in return, but the clients he serves so loyally.
As CEO, John leads the way in ensuring the company's development, its strategic direction and its aggressive growth strategies are achieved and exceeded. 
Tony Ghiazza has over 25 years experience in the Information, Funds Management and Technology Sectors, having worked in finance and executive positions in Australian corporates and mid-size companies.
---
Tony joined InfoTrack in October 2015 to lead the finance team where he is responsible for all accounting, budgeting, cash management, auditing, tax, acquisitions and company secretarial activities.
One of his many strengths lies in growing and integrating businesses to achieve superior shareholder returns. Tony has built strong relationships over the years with top-tier professional services firms, banking institutions, venture capitalists and corporate advisors which illustrates his professionalism and strength of character.
Tony firmly believes that it's integral for the finance team to partner up with the business and align plans so that strategy can be turned into outcomes. As Chief Financial Officer, corporate governance and business ethics are central to his decision-making process and he always places an importance on them to help guide.
Tony manages his team with an authentic leadership style that promotes strong continuity and quality outcomes. This, together with his strong mentoring skills, has built a culture of high performance and trust.
The saying goes, if you want to get the job done, give it to a busy man. This is the embodiment of how Tony delivers. If it needs to be done, he will see it through to completion and deliver the desired outcome without any doubt.